Does he really not understand the difference?
Here's a Twitter pic retweeted by our pal Dan Slott: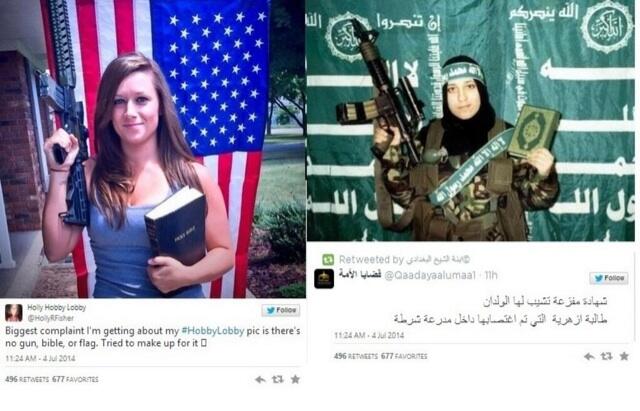 Slott asks of writer Tony Lee, a London-based writer who had also retweeted it, and Peter Anghelides, the tweet's originator: "Eep! Is this really how we look to the Brits?"
The text on the original tweet says "Spot the difference competition."
Y'see, it seems the "message" we're suppose to draw from this is all religions have their extremists, and that society shouldn't judge everyone based on the actions of "a few."
Except, as clear thinking people realize (and, thankfully, some pointed out on the Twitter feeds in question), the person on the right won't hesitate to kill you merely for not believing as she does. Or for saying something against her religion. Or merely because you're an Israeli. Etc.
The girl on the left, simply, wouldn't do any of those things. Not even close. The Bible and gun simply represent rights embodied in the very Constitution which governs us (represented by the flag in the background).
Dan Slott often tweets about bigotry and intolerance -- the kind he doesn't like. Like here, for instance. But as we've seen, he gets upset when people think he implies "everyone" of a certain group, yet he doesn't waste any time doing just that to someone else if there's no "requisite disclaimer."
Here's an example of bigotry which is perfectly acceptable to Dan Slott:
Just like the top pic above, that there's little/no difference between an American female who believes in the First and Second Amendments and a Middle Eastern jihadist woman who wouldn't hesitate to detonate a set of bombs strapped to her body just to off a few "infidels," people who believe in gun ownership rights -- again, rights which are codified in our highest legal document -- are dimwitted, gutteral-voiced "'Muricans" to people like the gnomish Dan Slott.
There are many contemporary comicbook creators who think as Slott does. It's how they think about you.
(Thanks to Doug Ernst for the various screen caps.)
UPDATE: My 'ol pal David Gerstman notes that the woman on the right is Reem Riyashi. Check out her story here.
Posted by Hube at July 6, 2014 11:31 AM | TrackBack