Yes, Orson Scott Card is a nut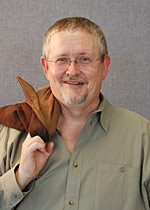 He's (at left) been in the news in recent months first because he was slated to write a Superman tale (which was delayed due to the outcry), and lately because his classic scifi novel Ender's Game will soon be out as a major film. These instances had to deal with the controversy of Card being vehemently anti-gay.
Despite my (and other comics bloggers') posts either defending Card from boycotts or (more in my own case) pointing out the hypocrisy of the boycotters, I believe it safely can be stated that Card is pretty much a nut. A big nut. If calling for a revolution if gay rights continue to expand in the US wasn't enough for you, maybe this is:
Where will he (Obama) get his "national police"? The NaPo will be recruited from "young out-of-work urban men" and it will be hailed as a cure for the economic malaise of the inner cities.

In other words, Obama will put a thin veneer of training and military structure on urban gangs, and send them out to channel their violence against Obama's enemies.

Instead of doing drive-by shootings in their own neighborhoods, these young thugs will do beatings and murders of people "trying to escape" -- people who all seem to be leaders and members of groups that oppose Obama.
Really? Really? Card thinks Boss Obama will actually be able to cull a "national police force" out of disaffected urban youth" to act as his personal ... gang? Even [ridiculously] allowing for the fact that if Obama wanted to do such -- how would he manage to do it?
This is 9/11 Truther territory, folks. But the problem with the contemporary comics world, though, is that they put out comics about the "truth" regarding 9/11, whereas views like Card's are in desperate need of Maoist re-education. Thus, I don't give much more than a shrug to the screaming and yelling from comics creators (and fans) about Card's nuttery.
UPDATE: As Nate notes in the comments, Card, in his original article, states that his is just a "silly thought experiment" and that he wasn't serious about it. But -- he also then writes
It isn't my work as a writer of science fiction and fantasy that prepares me to write about unlikely events. My job in writing sci-fi is to make impossible events seem not just possible but likely. Inevitable.
I admit this is one of the rare instances I didn't go to check out the original source material (which was linked to in critical article I linked to originally); however, while I agree that Card's "disclaimer" lessens the impact of his lengthy treatise, as noted he qualifies such enough throughout to get a reader wondering.
Posted by Hube at August 16, 2013 10:54 AM | TrackBack