The 20 Most Annoying Liberals
Courtesy of RightWing News, and a mighty fine list if I may say so: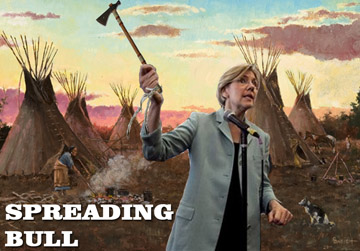 20) Chris Hayes
19) Mike Malloy
18) Meghan McCain
17) Joe Biden
16) Melissa Harris-Perry
15) Piers Morgan
14) Touré
13) Elizabeth Warren (at right)
12) Paul Krugman
11) Harry Belafonte
10) The Non-Fox Media
9) Andrew Sullivan
8) Michael Moore
7) Michael Bloomberg
6) Jamie Foxx
5) Harry Reid
4) Debbie Wasserman Schultz
3) Chris Matthews
2) Barack Obama
1) Sandra Fluke
Honorable Mentions: Bill Ayers, Bob Beckel, Joy Behar, Eric Boehlert, Margaret Cho, Candy Crowley, Code Pink, Lena Dunham, Dianne Feinstein, Ruth Bader-Ginsburg, Kathy Griffin, Eric Holder, Jesse Jackson, Ezra Klein, Rachel Maddow, Bill Maher, Bill Press, Ed Schultz, Al Sharpton, Jon Stewart, and Jeremiah Wright.
But in the interest of fairness (because, after all, "progressives" care about that above all else), here are (in no particular order) Hube's 10 Most Annoying Conservatives:
* Christine O'Donnell, Jonathon Moseley, Evan Queitsch. Three local (Delaware) annoyances, the first of which is obviously the most well known. Rarely has there been a more completely vacuous candidate than O'Donnell, and Moseley (who frequently comments over at DE Politics) and Queitsch (most recently a failed state rep. candidate) are former campaign associates of hers.
* Mike Protack. Protack is probably best known by his running for (and losing) just about every Delaware office conceivable, including US Senator, governor, state rep and county council. He visits the local blogosphere every now and then (he used to frequently), and his tone and demeanor can cause one to wonder why in the hell he even seeks elected office. (And demonstrates why he probably lost all the time.)
* Chris Christie. Dude, wake and smell the fact that the mainstream media only loves you because you help them make the GOP look bad. Whether it's thanking Boss Obama for his "help" during Sandy, or bitching about the GOP for more Sandy relief, the MSM eats it up. Especially since in the former instance Obama did nothing more than a photo op, and in the latter, the MSM turns Obama's ineptitude into the GOP's fault.
* Ann Coulter. I admit that her "never back down" attitude towards libs is refreshing, but it too often gets overdone. And I hate the way she always says "Right!" whenever someone is setting her up with a question.
* Pat Robertson and Jerry Falwell. There's a reason why these two are listed on the Colossus blogroll under "Good for Cheap Laughs."
* Joe Scarborough. He's supposed to be one of MSNBC's "conservatives," but every day he seems less and less so. He's certainly fulfilling his function for that network, that's for sure. He's a lot like WPHT talk radio's Michael Smerconish, who used to be labeled a "conservative" (thus he can't be on this list, technically) -- until he lost a screw (or two) and voted for Boss Obama. Now his show is beyond mealy-mouthed "centrist."
* Michael Savage. Have you ever tried to listen to this guy? At times he sounds like a schizophrenic taking LSD while getting audited. Manoman.
Posted by Hube at January 4, 2013 07:05 PM | TrackBack