Another idiot "study" claims to know that if Obama loses in '12, it's because of "racism"
But of course!
Google search data proves it, says Seth Stephens-Davidowitz, who is a candidate for a Ph.D. in economics, and wrote a post for the New York Times' "Campaign Stops" blog entitled "How Racist Are We? Ask Google." Unfortunately, the study is a classic case of confusing correlation with causation.

Stephens-Davidowitz used Google Insights, a service which tells researchers how often words are searched in different parts of the United States.

After ranking 200 metropolitan areas by their racially charged search data, Stephens-Davidovitz then came up with a way to compare it to the election results – a way that depends solely on his own conjecture about how many votes Obama should have gotten. In short, he assumes that Obama "should have received" more votes everywhere than John Kerry did in 2004, simply based on how much better Democratic congressional candidates did in 2008, on average, than in 2004.

The higher the racially charged search rate in an area, the worse Mr. Obama did," says Stephens-Davidowitz. He concludes that "racial animus cost Mr. Obama three to five percentage points of the popular vote" and "racial prejudice gave John McCain the equivalent of a home-state advantage nationally." (Link)
*Sigh* As Newsbusters chief Matt Sheffield notes, "There's no data anywhere which ties a specific person's voting record to their online search record, so Stephens-Davidowitz is only looking at two different sets of data and coming to a conclusion driven by his own assumptions. He went into the study looking for signs of racism, and, lo and behold, he claims to have found them."
Elsewhere, Angela Rye, Executive Director of the Congressional Black Caucus, has argued that opposition to Barack Obama this election year is -- wait for it! -- "racist!" But before you shake your head and roll your eyes, you gotta take a gander at the "reasoning" on this one:
She said that "a lot" of conservative opposition is racially-charged, citing the use of the word "cool" in an attack ad launched by Karl Rove's Crossroads GPS superPAC.

"There's an ad, talking about [how] the president is too cool, [asking] is he too cool? And there's this music that reminds me of, you know, some of the blaxploitation films from the 70s playing in the background, him with his sunglasses," Rye said. "And to me it was just very racially-charged. They weren't asking if Bush was too cool, but, yet, people say that that's the number one person they'd love to have a beer with. So, if that's not cool I don't know what is.

She added that "even 'cool,' the term 'cool,' could in some ways be deemed racial [in this instance]."
Time to break this out again: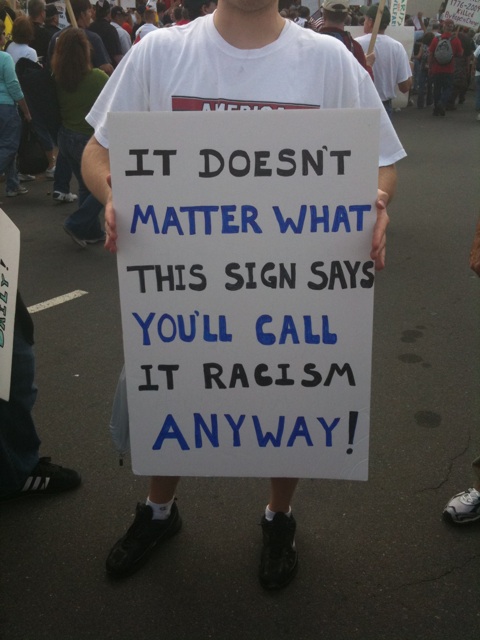 Posted by Hube at June 12, 2012 07:15 AM | TrackBack