Good to know Sen. Coons is a Media Matters hack
The far-left "media watchdog" group and Delaware's own Senator Chris Coons (D) (thanks, Christine O'Donnell!) says that we all should ignore scandals like that of the Solyndra solar company, because it would "... overshadow 'scores of success stories surrounding American clean energy companies.'"
Coons, who spoke during the Media Matters-organized call, chimed in by applauding the liberal messaging group's work.

"I'm grateful for what you [Butler] and Media Matters do year in and year out to help set the record straight" about American energy policy, Coons began.

"This is a moment where if America's going to lead [on energy policy], we have to work together," Coons continued, referring to "work[ing] together" with private sector energy companies through government assistance.

"I do just want to say thank you to Media Matters and others on this call for not allowing over-hyped partisan investigations to become the only story about these big changes in the clean energy economy," Coons said.
"Over-hyped." Right. Like throwing away half a billion dollars at Solyndra. Or $3.1 billion to First Solar which used it to create more jobs overseas than here at home. That's the current "progressive" Washington mindset -- wasting billions of your money is "over-hyped." And these same "progressives" then have the nerve to get angry at guys like Facebook's Eduardo Saverin for leaving the country so he doesn't have to see his own millions pissed away down the drain.
Once again, thank you very much, Christine O'Donnell.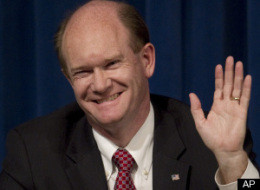 Aw shucks ... it's only a few billion!
Posted by Hube at May 18, 2012 03:41 PM | TrackBack