New Capt. America causes uproar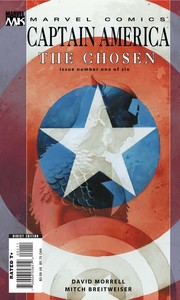 The writer of a new Captain America title has the lefty comics bloc's panties in a bunch. Why? 'Cause he's the guy who wrote the novel First Blood. That doesn't ring a bell? Well, it was turned into a movie and two sequels. In other words, OH NO! The dude who penned a story about a true American hero ... is writing a book about ... a true American hero! We can't have that in modern comics, can we? Doesn't this writer, David Morrell, know that you can only show that the US is bad, bad, BAD?? Just ask these guys. And remember the "controversy" over popular comics legend Frank Miller's Batman vs. al Qaeda story? Wow -- a popular superhero takes on ruthless Islamic terrorists. Call CAIR -- quick!
At any rate, as the Philly Daily News' Jerome Maida says, "Read the book," lefties, before you moan and groan.
(h/t to Colossus R&D man Gooch!)

Posted by Hube at October 8, 2007 06:28 PM | TrackBack